Objective:
In this article we will be talking about how you can find the customers or members of your financial institution that currently only have one active product. We will explore the following topics:
What report do you need to use in order to find your single service customers
What offers work best to your customers who only have one active product
How do I find my customers/members with only one Active product in Core iQ?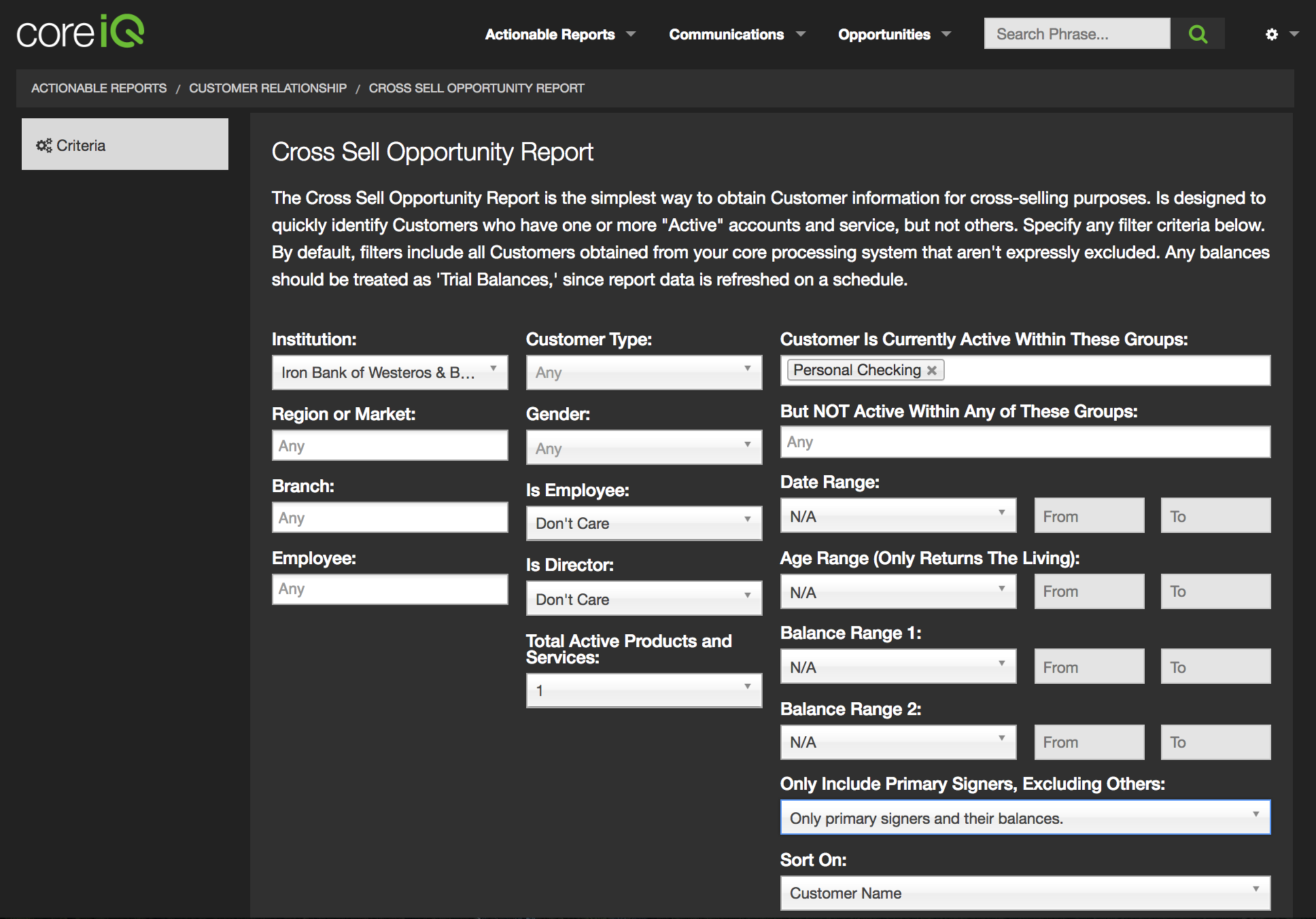 Expanding relationships is important to every one of the financial institutions on Core iQ, which is why we wanted to highlight just how easy it is in Core iQ to find one of the commonly overlooked groups at your bank or credit union. Customers who have only one Active product are a perfect fit for a lens-based offer through Core iQ. Expanding these relationships can help shore up an individual's connection to your financial institution, and Core iQ makes it simple to find and market to these customers.
We will start by going to the Cross Sell Opportunity Report in Core iQ. This can be found under the Customer/Member Relationships area of the Actionable Reports menu. This report allows you to find individuals with specific mixes of products or services at your financial institution. For this report, we will be focusing on a few specific fields:
Total Active Products and Services - This field allows you to specify a certain number of products that your audience can have as Active in Core iQ. An Active product in Core iQ is simply one that is not Closed, so that includes just the items that we will want to focus on for the purposes of this report. To find our single service customers, we will start by looking at only those with 1 Active Product or Service.
Customer is Currently Active Within These Groups - This field allows you to choose the particular product group that you want to look at. Because services in Core iQ are grouped in the

Services and Groupings

area, you should be able to easily determine what group of products you want to start with. We recommend looking at those who have only one Active product in one of these groups: Checking, Savings, Loans, CDs.
But NOT Active Within Any of These Groups - We won't actually be using this field for the purposes of this report, since we are looking at those with only 1 Active product. However, in the future you can use this field to determine which Active products you want to exclude from your audience if you are running it for those with >1 Active Product or Service.
Only Include Primary Signers, Excluding Others - With this field, we will want to change the choice from "I want to see all relationships" to "Only primary signers and their balances". This will remove those whose only Active product is an account that they are a Secondary relationship on.
Once we have all of these items input into our report, as well as any other toggles (Date Ranges, Balance Ranges, etc) we can run the report to get our list of single service customers. With this list, we can queue up a campaign offer for a particular product in order to expand this relationship. Core iQ allows you to queue this campaign directly from this Actionable Reports area, so lets explore just what offers work best for our audiences.
What happens to those that have secondary relationships?
If a customer/member has 1 or more secondary relationships, this will count towards their total number of products for the purposes of this report. For example, let's say that a given customer has a single Active product that they are primary on, and 10 other secondary relationships. This customer would have 11 products total and would not be present in our Cross Sell Opportunity Report. Additionally, if I have only 1 Active product and that product is a secondary relationship for me, I would not appear in this report either if the "Only primary signers and their balances" choice is selected. If you choose the "I want to see all relationships" option, this customer would be included in the results because they do have only 1 product.
What offer should I send to my single service customers?
As a general rule, we've found that segmenting your single service relationships based on the lone product they have with you, is a great first step. From here you may offer a product within the same Service Type to increase your chances of expanding the relationship. This means that if you've created a list of all your single service mortgage relationships, another loan would be a great offer to expand the relationship. Similar for deposit or transaction based products.
However, this can also vary based on timing and your overarching strategy. For example, if you're promoting CDs in a given month in order to increase deposits, then making a slightly specialized CD offer for all of your single service relationships could make sense.