Objective:
In this article we will be discussing the Outbound Communication Status area of Core iQ. This area gives you a quick overview of your communications and metrics relating to each item being sent by the system. We will explore the following topics:
How to track important metrics using the Outbound Communication Status area
How to view and export a list of communications sent over the previous month or year
What is the Outbound Communication Status area?
The Outbound Communication Status area of Core iQ provides you with an important overview of the essential metrics relating to your outbound communications within the system. At a glance, you can see the number of processed, rejected, and removed communications for a given template. Each of these metrics is individually viewable for an even more granular view. The Outbound Communication Status area allows you to check on and clear unprocessed items, showing you where you might be missing vital information like a valid email or physical address.
You can also see which communications are not being sent because of an 'Unapproved' status. This typically happens when communications are set to either New or Pending Admin Approval, causing them to queue up in the dashboard of an employee or admin. Having this view prevents time sensitive items from sitting in Core iQ for several days because of a missed approval by a Core iQ user. This metric is especially helpful for items like Birthday Postcards and Welcome Letters, which can get caught in a queue and forgotten about if they are set to Pending Approval.
Another important set of data that can be found in the main Outbound Communication Status area is the complete set of Email Metrics. Whether you are looking for the number of unique clicks for a campaign, or the number of invalid email addresses, this is the best place to find that information. The numbers calculated here are set by the Timeframe at the top of this page, which can be modified for instant access to accurate reporting for your email templates. If you are looking for reporting of these metrics over specific date ranges, take a look at our Email Metrics Report for more varied date ranges and reporting options.
Where can I find the Outbound Communication Status area?
This section of Core iQ can be found in two different places, depending on whether you are looking for current or previous outcomes. If you want to view current communication templates, head over to the Communications menu to find the main Outbound Communications Status area. If you are looking to view previous sets of communications ranging from the last month or last year, you can do so using the Outbound Communication Status Report found under the Actionable Reports area under Communications.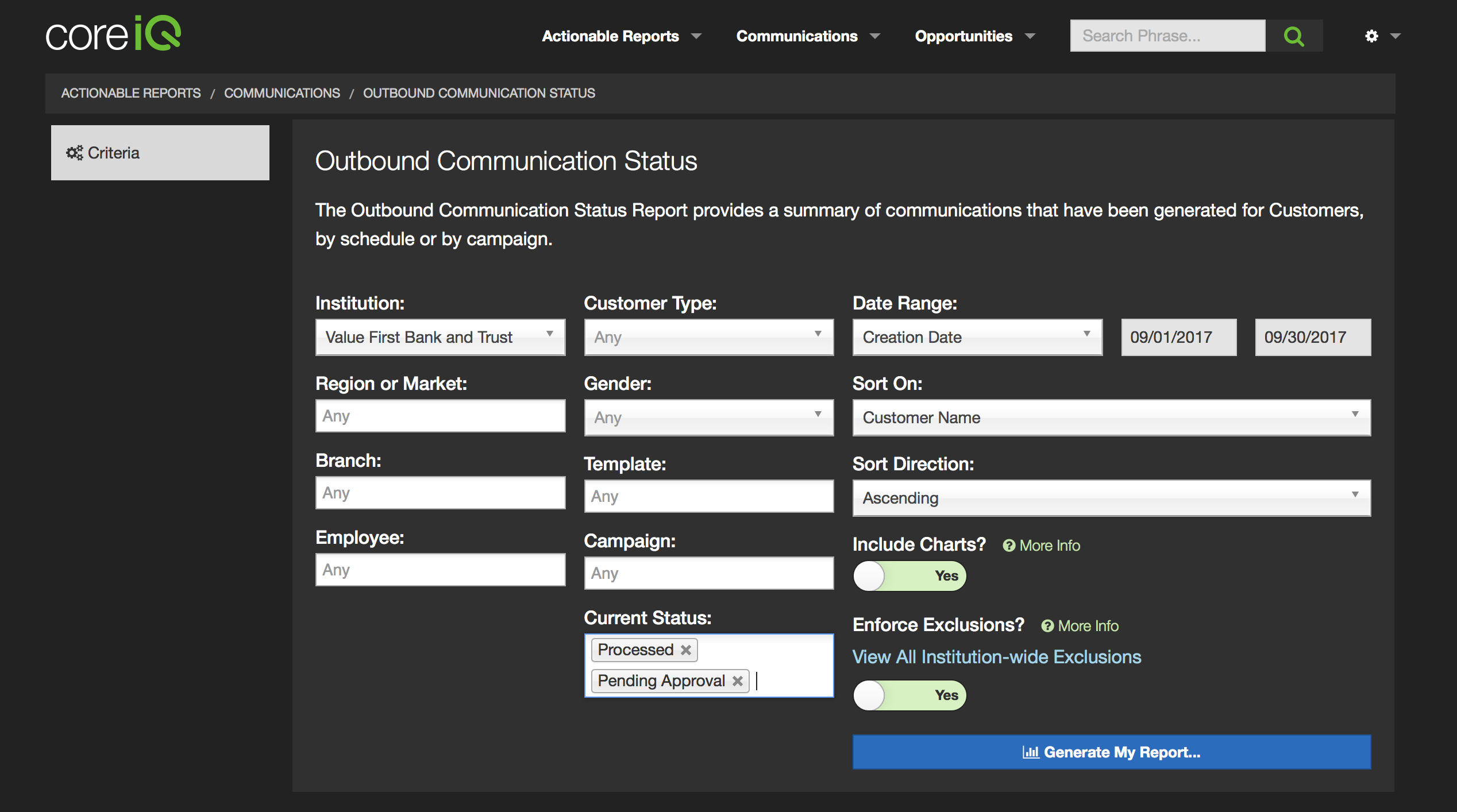 How do I use the Outbound Communication Status Report?
This report is the best way to analyze all the communications sent by Core iQ over a period of time. The report allows you to filter on two important parameters, Date and Status, giving you the best idea of the number of processed and/or failed communications over any period of time. This report allows you to isolate individual campaigns and templates as well, allowing you to track the number of processed items for a template over the last month or more. This is especially helpful for templates which are tied to schedules, as you can use this number to see how many people received a New Customer Welcome Letter over the last year.
After you run the report for a specific purpose, you can easily export that report as an Excel or CSV document in order to further analyze your results. Exporting the results allows you to view additional fields such as the individual recipient's contact information and the template name and type. This will allow you to easily isolate items that were rejected because of a bad mailing address, allowing you to better manage your core data and reduce errors in communications. You can also see charts showing which templates and/or communication types are being delivered or removed most frequently.